Together We think green
VitalFX's Green Walls is a Canadian provider of living walls, vertical gardens and green walls tailored to fit your interior & exterior green wall needs.
With the right system and a bit of planning, you can have a beautiful and thriving Green Wall in a huge variety of locations and designs. Whether you're a homeowner or commercial property developer, VitalFX has the living wall solution to fit your needs.
View Products
Striving to Make your space more Beautiful, Healthy, and Functional
Why use the VitalWall over other living wall system?
Order Now
Improve Air Quality
Introducing plants into any space improves air quality, increasing oxygen, protecting immune systems, and even reducing stress
Comfort
Plants help regulate building temperatures.  Plants absorb about half of sunlight shining on them, about a third of what remains is reflected, reducing ambient temperatures and your energy requirements for cooling
Natural Flow
The VitalWall System provides gravity fed watering – Water your top row thoroughly and the excess trickles down to the next pot in your system, right to the bottom!
Modular Design
Each frame of the VitalWall interlinks to create an endlessly scaling system, whether you want a single frame of 5 pots, or 200 frames with 1000 pots
Install it Anywhere
The VitalWall system works indoors or outdoors, and your choice of location determines what plants will do well.  Indoors and don't have much light? Ivy's and Ferns do great.  Outdoors with lots of sun?  Why not grow some herbs or flowers?
It's Fast and Easy!
Growing your garden on the wall rather than in self standing pots frees up room for what you need.  Installation requires a drill, and the supplied wood screws.  Each frame install is as easy as drilling in 6 screws!
Greening the spaces where we live, work and play.
Our green wall systems, engineering knowledge, plant design and selection capability, project management expertise, and follow-up maintenance programs can be applied to meet almost any requirements for both exterior and interior green walls.
Learn More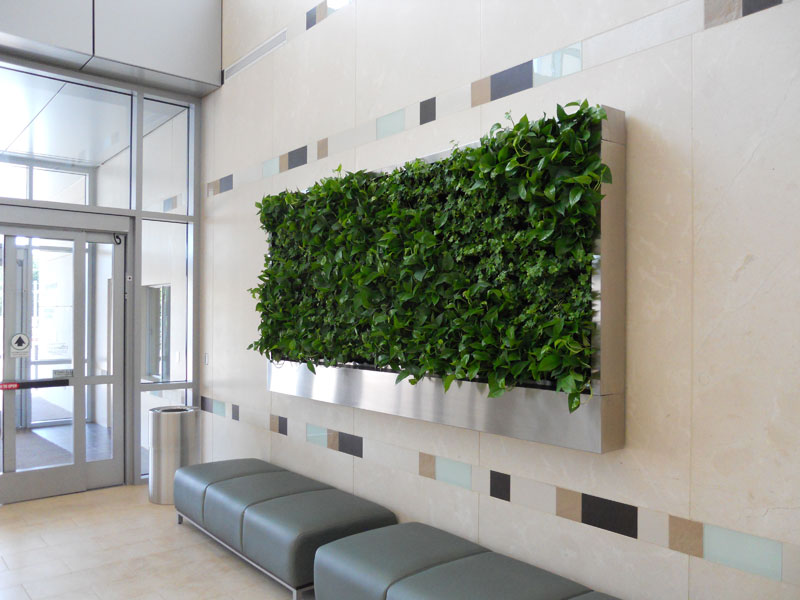 Pot
Each Pot is made with recycled PP, durable, UV treated, and made to last.
Funnel
The back mounted funnel feeds water directly to the bottom of each pot, filling the reservoir & watering the root system. Once the reservoir is full, the excess drips down to the next funnel.
Frame
Made of the same Recycled PP as the pots, each is a rigid, interlocking system that secures directly to your wall or self standing frame system.
Fabric
The bottom of each pot is lined with an included permeable felt, holding the soil from clogging the reservoir and permitting the flow-through our VitalWall is famous for.
Improve your air quality indoors and out, while minimizing the footprint of your plants
The VitalWall is easy to attach to your wall, deck, or fence. It includes 6 wood screws and plugs to attach each frame, and each frame links to its surrounding frames. The VitalWall looks great, whether you have 1 frame, or 1000.